Welcome to the latest post in the Data-Driven Deck Building series. In each post, you'll find an interactive tool to help you build your decks. The data comes from ArkhamDB.com, so you'll be comparing your choices with the community hive mind. For best results, view this on your desktop.
With the charts below, your primary questions are these:
For any given card, in which Investigator's decks will I find it on ArkhamDB.com?
Card of the Day on Reddit/Discord/Elsewhere is x: what are the stats on that card's usage?
Why did I build this?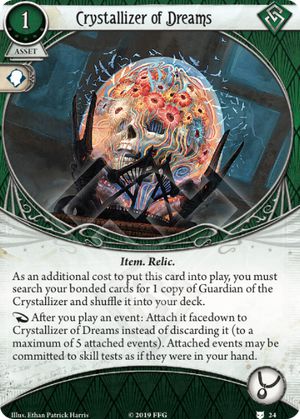 Sometimes I want to build a deck around a card, rather than an investigator. Using this tool, I've been able to get an idea as to which investigator is most likely to pair well with a card. For example, let's say I want to try Crystallizer of Dreams. Turns out, community users are putting that card in more Tony Morgan decks than anyone else (it's in a quarter of all his decks on ArkhamDB). My first thought had been that it would appear more in Sefina decks, but actually only 10% of Sefina decks contain this card. So perhaps I should give it a try in Tony. Or not.
I also use this tool whenever I engage with Card of the Day on the Arkham Reddit sub. Knowing how much a card is used, and by who, adds interest to the conversation (it does me at least!).
As always, take this tool as a guide. Just because you want to put Crystalliser in a Leo deck, and very few other people have (5 of 460 decks) it doesn't mean you shouldn't. Have fun deckbuilding!
See the rest of the series:
This is is the first in a series of Data-Driven Deck Building posts. Over time, you'll be able to explore the following, as well:
Introduction
Investigator-focus:

Which are the most popular cards for this investigator?

Card-focussed:

Who uses this card the most?
Which cards have trait "x"?

How did I build this?