Card of the Day over on the Arkham Horror subReddit is Sefina Rousseau, The Painter. Continuing my look at the data behind the decks, I've written this quick overview of her popularity and card usage on ArkhamDB.com.
Lots of people on the COTD thread love Sefina. Overall, she's is in 15th place for overall published decks. At end of January 2019, there are 167 Sefina decks you can choose to take on your Arkham adventures.
She's a newer investigator of course, so she's bound to be lower. In December she was 20th overall, having been as high as 11th most popular Arkham Horror 'gator a few months prior:
Which cards are most common? The chart below shows the top 20 cards in her decks. I've excluded her signature cards and neutral cards:
Unsurprisingly, her top cards are events. And they are the ones mentioned in the Reddit thread that can be best used by her special ability.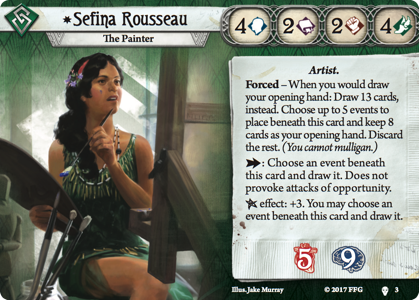 That's it for my overview of Sefina!
If you want to explore the data yourself, take a look at the interactive version.